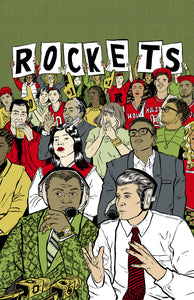 Contemporary Arts Museum Houston Shop
Bill Worrell and Calvin Murphy poster by Sarah Welch
Regular price
$30.00
$0.00
Unit price
per
The Houston Rockets have partnered with Contemporary Arts Museum Houston to create limited-edition posters to celebrate each of the 11 Remix Night games on Thursdays and Fridays this season. A different local artist is commissioned for each game to create a poster inspired by the Rockets alumni being honored that night. In conjunction with the 75th anniversary of the NBA only 75 posters are available from each artist. Each poster is signed by the Rockets legend. 
Poster size is 14" x 20".
Sarah Welch is an artist, illustrator, and comics-maker based in Houston. She is a regular collaborator with letterpress & risograph imprint, @mysticmultiples, and a past co-organizer with @zinefesthouston. Welch has participated in artist residency and education programs at Skowhegan School of Painting & Sculpture, MacDowell, Wesleyan University, Lawndale Art Center, and UT Dallas CentralTrak. She is a recipient of grants and support from The Arch and Anne Giles Kimbrough Fund Award (Dallas Museum of Art), The Houston Arts Alliance, and The Idea Fund (The Andy Warhol Foundation). 
---