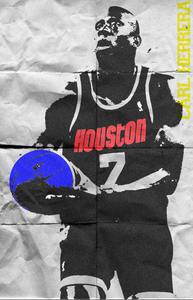 Contemporary Arts Museum Houston Shop
Carl Herrera poster by Matt Manalo
Regular price
$30.00
$0.00
Unit price
per
The Houston Rockets have partnered with Contemporary Arts Museum Houston to create limited-edition posters to celebrate each of the 11 Remix Night games on Thursdays and Fridays this season. A different local artist is commissioned for each game to create a poster inspired by the Rockets alumni being honored that night. In conjunction with the 75th anniversary of the NBA only 75 posters are available from each artist. Each poster is signed by the Rockets legend. 
Poster size is 14" x 20"
Matt Manalo is a Houston-based artist who creates work involving elements of painting, drawing, sculpture, photography, and printmaking. In his practice, he uses raw materials and found objects as a means of environmental consciousness and understanding ideas of scarcity and abundance. Much of his work is centered on ideas of borders and displacement, exploring how "home" and identity should be defined as a first-generation immigrant from the Philippines. Manalo is the Founder of Filipinx Artists of Houston, a collective of visual, performing, literary, culinary, and multidisciplinary artists. He is also the Founder and Chief Curator of Alief Art House, an artist-run alternative art space that highlights the cultural richness of the communities in Alief a neighborhood in Houston, Texas.
---