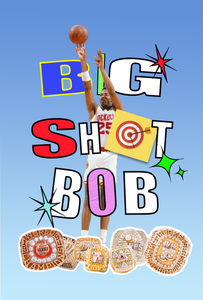 Contemporary Arts Museum Houston Shop
Robert Horry poster by Stephen Wilson
Regular price
$30.00
$0.00
Unit price
per
The Houston Rockets have partnered with Contemporary Arts Museum Houston to create limited-edition posters to celebrate each of the 11 Remix Night games on Thursdays and Fridays this season. A different local artist is commissioned for each game to create a poster inspired by the Rockets alumni being honored that night. In conjunction with the 75th anniversary of the NBA only 75 posters are available from each artist. Each poster is signed by the Rockets legend. 
Poster size is 14" x 20"
Stephen Wilson is a Houston-born artist and digital strategist currently based in the Bay Area of California. His artistic practice explores online representation, race and identity politics, and the aesthetics of installation as an arbiter of message. Wilson formerly worked for ACLU Texas as a Digital and Branding Manager and currently works as a Digital Strategist at ACLU North California. In this role, he uses graphic design, online platforms, and user data to advance racial equality and social justice in the digital age. He also co-founded Raincoat Creative, a company that specialized in complex A/V installations for nonprofit art spaces and commercial galleries in Houston.
---