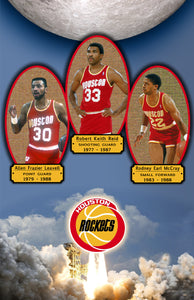 Contemporary Arts Museum Houston Shop
Rodney McCray, Allen Leavall, and Robert Reid poster by Jack Massing
Regular price
$30.00
$0.00
Unit price
per
The Houston Rockets have partnered with Contemporary Arts Museum Houston to create limited-edition posters to celebrate each of the 11 Remix Night games on Thursdays and Fridays this season. A different local artist is commissioned for each game to create a poster inspired by the Rockets alumni being honored that night. In conjunction with the 75th anniversary of the NBA only 75 posters are available from each artist. Each poster is signed by the Rockets legend. 
Poster size is 14" x 20"
Born in Buffalo, New York, Jack Massing (b. 1959) is a Houston-based artist known for his 36-year collaboration with Michael Galbreth (1956–2019) as #TheArtGuys. The pair first met as students at the University of Houston in the early 1980s, where they worked together on several conceptual projects. The Art Guys experimented with a wide range of materials and activities, using a "direct-to-the public" methodology that often circumvented the established art world. They are perhaps most well known for their numerous staged performances, public spectacles, and "behavioral" interventions that challenged perceived divisions between art and life.⁠
⁠
Massing continues to work as a solo artist and collaborates with others to produce new work. His work is currently featured in William WEGMAN & Jack MASSING: TWO CLEVER BY HALF – A Call & Response Project, a site-specific exhibition of newly commissioned works made in collaboration with artist William Wegman (b. 1948, @williamwegman). The exhibition is currently on view at  Rauschenberg Gallery @rauschenberggallery through March 25, 2022.⁠
---