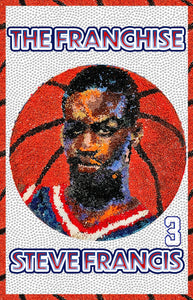 Contemporary Arts Museum Houston Shop
Steve Francis poster by Ann Johnson
Regular price
$30.00
$0.00
Unit price
per
The Houston Rockets have partnered with Contemporary Arts Museum Houston to create limited-edition posters to celebrate each of the 11 Remix Night games on Thursdays and Fridays this season. A different local artist is commissioned for each game to create a poster inspired by the Rockets alumni being honored that night. In conjunction with the 75th anniversary of the NBA only 75 posters are available from each artist. Each poster is signed by the Rockets legend. 
Poster size is 14" x 20"
Ann Johnson's Blingcatchers are part of her series, Hoop Dreamin', which explores the idea of young Black men in pursuit of basketball stardom—or a "hoop dream"—and how it relates to consumerism, materialism, life, death, and success. Inspired by the function of a traditional dream catcher, the Blingcatchers use a basketball goal, gold and silver jewelry, and mementos to represent a basketball player's dream, journey, and legacy. This particular work honors Steve Francis, featuring a hand-beaded portrait as the centerpiece, a figurine of one of his iconic jumping positions, and is dripping in jewelry, Rockets charms, and a Reebok sneaker. Johnson's Blingcatcher simultaneously examines and honors Francis' dream and journey to becoming a Rockets legend.⁠

---