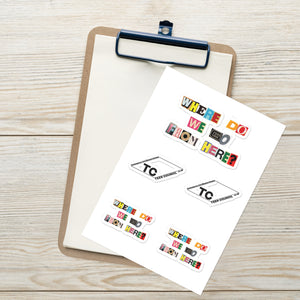 Contemporary Arts Museum Houston Shop
Where Do We Go From Here? Exhibition Sticker sheet
Regular price
$10.00
$0.00
Unit price
per
Contemporary Arts Museum Houston's (CAMH) Teen Council presents their 13th biennial exhibition featuring work from Houston-area teen artists.

Where Do We Go From Here? This exhibition's title was posed as a question to over 100 teen artists from across Houston. The resulting artworks—ranging from painted collage to abstract sculpture—disrupt societal norms and boldly confront challenging topics through the lens of change. From recent socio-political upheaval to personal rebirth, these teen artists have a great deal to express about the contemporary world.

The works included in this exhibition reflect varying and diverse lived experiences and emphasize that identity is never stagnant nor singular. It shifts as a result of various catalysts, including pandemic isolation, bodily changes, and pressure to define oneself. Each tribulation defines an arc, taking these transformative experiences and making something new. Today's youth have taken differing approaches to move forward. Whether collecting ephemera, meditating on people and fragments of lost identity, or shedding younger skin, momentum is critical. Pushing back against stagnation, these artists bear their own weight through new independence as they face their futures.

Where Do We Go From Here? depicts the artists' responses to varying catalysts in their lives. Despite the challenges they face, the artists choose to stay true to their upbringing as they confront change, while still honoring their unwavering sense of self in an unfamiliar world. They also navigate the understanding of their individuality, forging a unique identity between contrasting realities. Each of the 25 artists find power through new personas, examining the world through their own looking glass to shed past selves and discover a multiplicity of new possibilities.

About Teen Council
Composed of young arts enthusiasts, Teen Council serves as the Museum's vehicle for attracting the city's teen population to CAMH and exposing them to the vibrant field of contemporary art. For council members, the group serves as a highly collaborative creative incubator that opens up opportunities for leadership, visual literacy, and life skill development. During weekly meetings, the council is introduced to the inner workings of museums and to the dynamic Houston arts community. Teen Council activities are decided upon by its members and can change from year to year, but past events developed by the Teen Council include virtual zines, exhibitions, fashion shows, film screenings, listening parties, music festivals, and poetry readings.

---